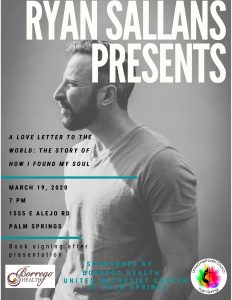 Full Audio Transcript for Ryan's Speech - A Love Letter to the World: As Told by This American's Life.
An economic recession is hard enough, we as Americans can still remember what 2008 felt like and how long that took many of us to get back on our feet, with sadly some not being able to fully make it there. Going back a little further, we can remember the sheer horror as we watched our own airplanes fly into our city towers or nearby town fields, where innocent people's lives were taken out of hate. Going back even further, we will continue to see the pain and trauma we've inflicted upon each other because of power, control and greed. It is important to remind everyone that the 75th anniversary of Jewish people being liberated from the genocide we called "concentration camps" took place on January 23, 2020. Let's also not forget that World War II caused this planet to lose over 75 million people.
Now, in March 2020, we are not only facing a global recession, we are also going through a pandemic that is putting the fragility of life and the need for a balanced work and home life – front and center – for us, not only as Americans, but for all of us as human beings. Our death tolls are rising, and we are seeing the virus impact both the young and healthy and old and frail. Many people have reached out to me to see how I am doing during this time because I am a small business in America that has had my income shut down until further notice. My short answer is, "Thank you for your concern, it truly means a lot to me. I am hopeful that this pandemic and the recession will allow us all to change, adapt, and readjust our American culture and world views."
You may be wondering what I mean by, "readjust our American culture and world views." Below, I will be sharing with you all a hybrid of a speech that I wrote and shared live via my YouTube channel at 7 pm CT on March 19, 2020. I will admit, the video is not perfect – one, I had never filmed using the YouTube Live feature and have now learned its video and sound quality is not good. Also, this was a brand new speech, but I felt the need to speak urgently, so I was not able to fine-tune my craft, which revealed my slight speech impediment that has never prevented me from being a public speaker- it's part of my quirk and charm. After reading the rest of this article that I've written for all of you, feel free to check out the live video on my YouTube channel (just turn on the closed captioning, which I spent over 8 hours crafting).
This pandemic has cemented what I have been developing in my life over the past forty years. I live in America, but I am very fortunate to have traveled to many parts of the world and work with very diverse audiences. As I've aged, I've been on the search to find ongoing pride in being an American, instead of embarrassment that is full of a lot of apologies to the world. I've also worked hard in growing my small business as a speaker and author in the fields of inclusion, diversity and healthcare. I've been on a quest to help other people find their own pride, not only in their country but in themselves. I am an American that believes in the importance of living a life guided by respect for individuality, integrity, honesty, truthfulness, and kind playfulness. I am a small business that works in the fields of inclusion, diversity and healthcare because I know through my own life experiences that we as human beings need to be able to live a life without judgement or assumptions. We need to be able to grow our individuality in this world, in order to figure out and then express who we are as unique human being living their own life with guided principles and values. We need to remember what it means to be human, so that we can learn from mistakes or past actions, in order to improve ourselves, our lives and our relationships. 
Now, more than ever, we need to put focus, value and resources toward trauma-informed care and public health, in order to build healthy communities and relationships. 
I realize now, that my work has been operating under the confines of human sexuality and eating disorders, but what I really do is teach and show people how to heal from trauma. And right now, there are a lot of people experiencing a very disrupted life where they do not feel like they are in control or that it is their own. The more people we lose to this virus, young and old, the even more real our individual live's become. I have been aware of my own life from a very young age, and I've been fighting ever since to figure out to share with all of you how important we all are on this planet. I have been going through a rebrand with my new found understandings of the impact of abuse and trauma, and I am now planning a lifetime's worth of articles, books, videos, and personal stories to help us all. Over the past three months, I've been working with test markets to restructure my work. As my speaking season for 2020 was gearing up, I was planning to show you all my new insight through a talk that I had planned to film and post online. I've never posted a full talk online, but felt it was time to open up my message to people beyond the audiences with me in a room or readers through a book or article.
On March 19, 2020, I was scheduled to give a talk in Palm Springs inside a church. The talk was titled "A Lover Letter to the World: A Story About How I Found My Soul." I used that specific language and the word "soul" because I was going to be speaking in a church, and I wanted me and my talk to feel soulful. Before March 12, I felt this talk in California would provide me with that last answer I was seeking, in order to help all of you, like I have over the years. But with 2020 essentially being canceled (at least the Spring) I realized the true moment I needed to experience, in order to find the answer I had been searching for, was a global pandemic with an economic shut down like we haven't seen before, and it is impacting us all. 
For the past 15 years, I have been working non-stop to help people heal from abuse and trauma around this world. I say "non-stop" because I've been working this whole time to heal my own because I continually felt this world taking my health and my heart into its hands, instead of mine. I've recently learned that to heal my own trauma, I had to free myself from the labels and identities that I was using to categorize myself. I've learned that categories do not show us who a person is, and how they feel, in their own lives as a human being on this planet. I had this realization after spending five days by myself back in December. 
On December 15, 2019 I woke up in bed with the most severe chills I have ever experienced in my life. These chills continued nonstop for three days and then moved into a weird respiratory cold. I had gotten the flu, that I linked to the Urgent Care visit I had had earlier that week due to an inflamed lower eyelid that is linked to stress. While sitting in the small waiting room, I could hear the current patient in the exam room hacking so badly, that I considered leaving and visiting another time because that sound made me feel if I got it, I would never survive. Well, I did survive, but that illness was terrible and it made me think about how much worse it would have been if I wasn't in otherwise good health (minus stress). 
Subsequently, being drained from a very busy Fall and then getting the flu, I elected not to go on a vacation to the mountains with my wife. Instead, I sat in my house, all alone for five whole days. I didn't even take a step out, besides to grab the mail placed in a box just outside my front door. While my wife spent a week with her father who lives in the mountains, I self-quarantined and instead of speaking to people, I just hung out by myself where I listened to music, cooked great home-made meals, completed a very difficult 1000 piece puzzle, worked out in my basement, and chilled/played with my cats. 
By the time my wife returned home, I felt like a new man. And quickly realized I was becoming not only a new man, but my full-human self.
On January 8, 2020, I saw a full human being standing before me in my bathroom mirror, who goes by the name of Ryan. I saw a goofy, fun-loving guy that wears his heart on his sleeve and helps out as many people as he can who are in need. Over the past three months, I have been going through a recovery of self, and journaling everything I am learning about the bio-psycho-social model and recovery from abuse and trauma. I realize I have a unique life where I am often on the forefront because I am a unique person with unique talents and gifts that can come off as either too much or unsettling for some people because I truly work hard to live a life guided by listening to yourself, and honoring who you are. There is a reason why I have the motto: "Honor Your Truths." It's scary, but trust me, I've been there and things are not necessarily easy, but way better on the other side. 
I am learning, building more trust in me and message is my next objective because over the course of my life some people closest to me have hurt me in ways I will never understand. That hurt has made me pull further into myself because the ongoing pain has made it harder for me to live on. Through my recovery of self, I realize the part of me I've been scouting the furthest on the unknown trails for, is affirmation from the people I love the most regarding the true importance of my love of educational and practical storytelling through my books, articles and talks. By spending time with myself and listening to myself and my body, I realize the last person that I needed to affirm my purpose, was me.  
As a memoirist that has been sharing stories based on my life with all of you, I am now ready to start writing you all stories that move past abuse and trauma, after we all get through the reverberations of the present future unknowns. It feels good to think about finally being able to live my life, and share fun stories with you about my life as a guy with graying hair because his dearest lesbian friends told him to quit dyeing it. It feels empowering to share what my life as a guy who works in inclusion, diversity and healthcare that presently has 40 years and some odd and even days of life experience in America with all of you.
I've worked far too hard for this moment, and human evolution has come too far for it all to end, so I believe we will be able to heal from this pandemic and economic recession.
My name is Ryan Sallans and I have been spending the past fifteen years of my life as a storyteller that is inspired by living on this planet with all of you. You teach me a lot about myself every step of the way, which in turn has helped me also teach you! That's called a symbiotic relationship! 
I am most known for helping LGBTQ people, more specifically, transgender people because in August 1979 I was born and a doctor looked between my legs and said, "It's a girl."
Over the course of 15+ years, I've been speaking and writing in the fields of inclusion, diversity and healthcare and have been frustrated and confused by the lack of improvement in quality of life and access to healthcare for patients, employees, students and clients. I am seeing more and more people losing their individuality, and we presently live in a world where "nothing makes sense anymore" and it feels like "someone is always picking on someone else."
I have been feeling stuck on my childhood playground, where the bullies on either side, rule the law-of-the-land, leaving those of us in the middle confused and silenced.
What I have seen over this past decade has hurt me, you, and this planet greatly. In our work to become more inclusive and welcoming, we have forgotten a golden rule:
"Be kind to others, like you are to yourself."
We have forgotten this rule because we are not being kind to ourselves.
We are largely overworked and underpaid for the things we do to contribute to a fast-moving society.
We are stressed.
We are tired.
We are run down.
And we don't know how to unwind because to truly unwind means needing to slow down to get back in touch with ourselves in our bodies. Our present American culture makes this near-to-impossible for many.
I have been on this ride with all of you. Owning a small business in America, I have worked and pushed myself hard, and have found myself falling deeper and deeper into a place of sadness and loneliness. Besides when I was out speaking, the parts of me that I liked the most were getting lost in the noise, or confused when a finger quickly pointed at the parts I was learning to like about me, but being told "I should not exist" or that "I have no more value." When I came out as transgender I was rejected, harassed, bullied, and picked on – for god knows how many times – by people close, distant, and strangers. I was even protested by the Westboro Baptist church in Kansas back in 2009.
This ongoing trauma inflicted by a society that looked at me and then judged me based on appearance and physicality began right when I was born when my parents were told "I was a girl," and  it hasn't stopped.
Until now.
The joy I have been experiencing over the past three months, and the relationships I have been building with myself, my family, friends and community has been inspiring and also very difficult. It is hard to stay present in a life that keeps getting disrupted every time you leave your home because everything is too chaotic anymore. It is hard to process everything and keep up. Especially the older you get. I've learned over the course of these three months that I am a writer and storyteller. I realized this because I am fully tapped back into my emotions due to taking five days off in December, sitting with myself and continuing to access the healthcare I needed to heal from my last trauma.
I now fully realize how disruptive technology is, especially when it is used to drain our lives instead of enhance them.
Throughout my life, I have always been a very present, loving and giving person, but over the course of these last ten years, I have been slowly becoming more distant and my gifts were becoming non-existent. Instead, I kept booking more and more work, and volunteering more and more time. I worked to make money and volunteered to give back. Yet, the more money I made and the more of me that I gave, the more stressed I became about making even more money because I felt my value as an American small business was linked to money, not my gift of educational gab.
The more stressed I became because I was searching for monetary value, instead of life value, the more I numbed out through the overuse of alcohol and technology. The only thing that would bring me back to life were backpacking trips in nature and home projects. But those were my vacations, and so after they were over I threw myself back into the chaotic lives we all live. Until a funny thing happened, first I turned 40 last year and said, "Shit!" Second, I went through a recovery of self. And lastly, we are now in a global pandemic with an economic down turn. And I still feel hope.
I have not had an easy life. You all have been pretty hard on me, but I thank you for that because you have taught me a lot about what it feels like to be hurt and rejected, and how we as professionals can better serve you. I have a unique way of educating people about life, and feel that this next decade, as we all heal together from the impact of this pandemic, that I can do a better job at what I love most. Entertaining people, while teaching them a little about themselves through my stories, as a now aging and loving American in the twenty-first century.
On January 8, 2020 I saw my whole self in the mirror for the very first time in this life of mine . . . that has an expiration date.
I am presently writing my third book, Finding Me: A Journey to Self Discovery (Scout Publishing, 2021) that will go into more detail about what led up to my new awakening, and this blog I am presently writing. I will quickly summarize, that this year I have healed myself from my last trauma by transitioning the word and label "transgender" from an adjective to an adverb. Meaning, I let go of that label I had pinned upon myself, so that I could finally free my life from its last trauma, and start living it fully as me, a guy in his 40's who lives in Omaha, Nebraska – but travels the world and does really cool things.
I just so happen to also be an author who uses his degrees in cultural anthropology, and educational psychology focused on human health behaviors, to help, in guiding many of you in your own lives, and your relationships with other people. We've all been part of each others lives around this world because everything we do has an impact on one another. My purpose has always been to provide people with insight into their own lives through my own. My goal is now to be one piece of this universal tapestry of healers and artists, so that you can feel better about yourself, your life and your relationships on this planet that we call home.
This virus has shut us down for a reason. We all need to remember what the true American dream in modern-day America (not colonialism) is – to live a liberated life where we can take care of ourselves, our family and our home – no matter our appearance or physicality. There is a lot sitting in front of us that is beautiful, it is just too hard to see because we've become disrupted and then absorbed by a technology-driven life.
We are not computers.
We are not robots.
We are human beings in a life-stage development cycle that is presently ending earlier in our lives versus other countries.
This fast-paced lifestyle may work for those extreme extroverts in this world, but for many of us, it is just too much, and it is draining us from ourselves, which prevents us from being fully present for others.
I still remember a life without technology, I remember a life guided by family stories, friendships, bruised knees and lessons learned. I remember waiting those three minutes for the radio commercial to get over, so I could press down on the play and record button at the same time to grab a song for the mixed tape I was slowly making. My favorite song was City of Lights. It is time for all of us who lived during a time prior to technology consuming us, to start reaching out and helping those that have never known anything different. I am asking that we finally allow generation X to have a dog in this dog park, instead of a dog in this fight. We need the knowledge gained by those slowly and thoughtfully recorded mixed tapes, off the radio. Both side A and side B.
We have built a world of super-fast connections, but we have no time to fully download everything happening around us. This virus and the crashing economy is a sign for us all as humans to get back to being human, not labels that we have to define by language that everyone hears and interprets differently.
My very wise Public Health Professor Dr. Ian Newman at the University of Nebraska-Lincoln told my graduate class in 2003 to, "Never get rid of our public health books because we would never get them back." He is a very wise man who had grown up in New Zealand and studied and researched around the world, so I knew I should listen to him. I placed one of those books in my home office library, and I now realize what he meant by "never getting them back." It is important to keep our books from the classes that inspire us because contained within those pages are your personal classroom notes and highlights, which can never be replaced by buying a new book. 
Deep thinkers go very deep into research and literature, and love to mark up paper. I am one of those people, and my public health book is all marked up with highlights, references, and research that my 40-year-old brain is presently finding helpful for insight regarding this pandemic and change.
Three nights ago, I pulled this book off my shelf because we are in a pandemic and I wanted to see what I could learn because I want to help the people that find comfort in me, my story and my voice. History holds all the writing on the wall – to help you all understand the meaning behind this, let me share some history from this book titled: A History of Public Health: Expanded Edition by George Rosen. In it he wrote that in 1849, pathologist Rudolf Virchow said,
"Epidemic diseases exhibiting a hitherto unknown character appear and disappear, often without leaving a trace."
An Italian physician, poet, and scientist, Girolamo Fracastoro surmised that pandemics derive with abnormal atmospheric and astrological conditions. In a poem regarding the spread of syphilis that was published in 1530 he wrote,
"Although a cruel tempest rages, and the conjunction of the stars has been wicked, yet we are not completely deprived of divine clemency. This century has seen a new disease, the ravages of war, the sack of cities, floods and drought, yet it has also been able to navigate oceans denied to the ancients, and has reached beyond the bounds of the previously known world."
In this poem, he spoke of a new age where we as humans had a new discovery of the world, the meaning of life, community and individuality after going through a rapid and sudden illness that was linked to a fever. We are presently entering into a new age where we are going to figure out how to be human on a planet that seeks and needs a symbiotic life. We have a beautiful planet, with beautiful humans. We just have not been able to tap into ourselves because technology has no time or patience for the process that we as humans need to go through. We need time to ourselves. We need the ability to fully think through our days and reflect on what we've learned about ourselves and our relationships. This is a process that should be allowed to be set on repeat in the morning when we get up, and the evening when we go to sleep. Or, if you work the night shift – vice versa. 
The planet needs us all to slow down too, and to be more thoughtful. In the poem, Girolamo Fracastoro referenced the new age as an age of Renaissance. I think we are going to have a new wave coming very soon on this planet because times of chaos are when us creative healers and artists thrive. And we are gearing up to help everyone out through what we've grown to know, but are not either given the credit for, or allowed the space to fully share.
I am a storyteller that has been collecting a historical timeline linked with science and research to help us understand our human lives in this current state of evolution, and I have a lot to share with you soon. I am very grateful for all of the wonderful connections that I have with amazing people in this world who are doing really good things to help us all heal from abuse and trauma. So, let me begin to close this blog by fully introducing myself one more time. My name is Ryan Sallans, and I've been fighting my whole American life for this very moment – to tell you all that we can heal from this and help our planet, so that future generations can live the liberated lives we all have been searching for.
I have a unique job that takes me into the C-Suite executive offices in corporate America, the hospital systems across the country, the university classrooms where students are searching for the inspiration to create what they seek in life, and the rural towns where the people are judged by any one that hasn't experienced the beauty that can exist in small communities. I can't win over everyone in a crowd, but overall people like me because I am coming from a place of love, not judgment or fear.
I realize now, the story I needed to share in Palm Springs on March 19, couldn't have happened because the story's conclusion was found by this global pandemic, known as a virus we call COVID-19.
Pandemics and epidemics have happened throughout history and time in the human evolutionary process. Each one setting the stage for another big change.
It's time to embrace each other and understand the importance of social responsibility in a time of crisis. I am an American man that loves the potential of what our country was always meant to be, and I look forward to living out the rest of my life with all of you. But first, let's all allow the time and space that we need to heal from this present disruption. My buddy Daan who is a brilliant intellectual and copyright lawyer said, "It feels like 2020 has been canceled!" I feel like the year 2020 will go down in history as the start of a new era, through first pressing the pause button, and then reset.
It is time to see how the planet heals from decreased carbon emissions – and how much better we all feel with what and how we consume (food, beverages, entertainment, media, information, products). I am an experienced international backpacker and camper. I travel this world by foot, and want to continue to learn more about you all, while I look out at the glaciers that are no longer melting away.
To start working on this reset, we absolutely need to adhere to the pause. We need to follow guidance from other countries that have enforced strict laws to stop the virus that will most likely appear in another 10 years and then never been seen again, according to Sylvia Brown who predicted this back in 2008, and mentioned to heal from it we need a combination of electrical currents and extreme heat. 
To help us all in flattening this virus's impact and not falling so quickly if and when it appears again – it is time for America to listen to history and read the research findings that humans have been recording over the centuries. I always ask, why create a wheel that has already been formed? Why not work with the wheel that humans have already made and make it better, while giving credit where credit is deserved? George Rosen notes and other countries have found: "A major aspect for social responsibility is the creation of conditions and facilities that promote health, prevent disease, and render medical care easily accessible to those in need through a national health policy."
We have all been impacted by this global pandemic. Those that now learn from the lesson will feel better much more quickly in their lives. I want to live in the land of the free with the person that brings me the most inspiration in life and now I understand is my muse. Megan, I have a very, very big love letter that I am going to be writing you very soon. I am sorry we've slowly lost each other over these years of chronic stress and am happy to see us both coming back into our own again. I look forward to you coming home, so we can go on our walks and also look forward to strolling to our voting poll this November to help turn this ship around and get it out of our waters. Some ships should have never been set out to see, and now we need to open our eyes to their true ramifications on us and nature. The more I am back out in nature, the more I remember and feel the freedom that nature and open spaces provide for healing and connection. I look forward to placing my feet on as many trails as I can, and go until my body says it is time for my ride on this physical planet to also end.
I just hope that when my body goes, the planet is doing well and I leave seeing and feeling love and acceptance, not hate and judgment.
Tonight, go to sleep thinking about your most fondest memory.
Tomorrow, take some time over your coffee to think about the moment and what made it so great.
The next day, expand that moment to the rest of that week, and then just keep going. By doing this, you will remember more and more what brings you joy in your life, and what you need to keep going.
For all of you who have watched me grow, as a professional in the inclusion, diversity and healthcare fields – serving all communities through my storytelling.

Thank you for continuing to come along with me on this ride.
For those of you who find meaning in what I have to say, and feel it could help out another person in our current times, pass me along through this video, my books and the future writing that I now have the time to finally sit down and craft.
I am an authentic guy, and I love you all. For those of you who have resisted my message, when you let go of your own judgement or fear, I am here with open arms, and always love giving hugs.