The changing landscape around transgender awareness and inclusion over the past ten years has been astonishing. On the one hand, trans issues are out in front of us where they can be explored both at the personal and institutional level. On the other hand, the more individuals learn about themselves and their transgender identity, the more difficult it can be to navigate life in what may feel like a world that does not support or accept you.
Since the Trump Administration announced that they are rolling back guidelines put in place by the Obama Administration surrounding transgender students' rights and access to restrooms in their schools, my heart could feel the wrenching fear both trans youth and the families that support them are wrestling with due to the unknowns. While I have always advocated for speaking up and out in support of transgender youth, we are currently under guidance from an Administration that does not understand or have the proper training to guide our society, so we need to be even louder.
The rest of this article will address creating change at the local level to directly support trans youth and their families who live and your communities.
For Teachers and School Administrators

For Medical and Mental Healthcare Providers

For Family Members

For the Community




 
For Teachers and School Administrators:
The roll-back of the Obama Administration's guidelines for transgender youth should not be a free license to roll back transgender students' rights to both privacy and safety. Now, more than ever, it is a time for you to continue moving forward with policies that protect transgender students because it is the right thing to do and every student should have access to a safe and supportive learning environment. If you personally struggle, or if you fear parents calling you and insisting that transgender youth are a threat to their children, then GET EDUCATED.
In a way, I feel like I am playing a broken record by saying, transgender students are not a threat in restrooms or locker rooms, but I am finding that people just can't get past this notion that they are. I wish I could wave a magic wand and have everyone experience what life is like when you are transgender, but I know that isn't possible. What is possible, is for you to start brainstorming what reasons prevent a school from allowing transgender students to use the restroom that aligns with their gender identity.
Reasons, like the following, are harmful statements that are directly impacting the physical and mental health of transgender students.
"Transgender students shouldn't use the restroom or locker room that aligns with their gender identity because …
Harmful Statement #1:  . . . it violates the privacy of other students."
Harmful Statement #2: . . . girls will then see a penis."
Harmful Statement #3: . . . they can use the nurse's restroom or change in a private area away from everyone else."
Harmful Statement #4: . . . then it will allow other students to say they are transgender so they can then enter a restroom or locker room where they can sexually assault other students."
Harmful Statement #5: . . . then other students' parents are going to call and complain."
As a consultant and speaker, I have heard the above comments from administrators and teachers who are simply not educated surrounding the topic of transgender identities. (To look more specifically at why these are harmful statements, read my previous blog on Restrooms Wars). If you struggle with this topic, now is the perfect time to challenge yourself and seek out education so that you can better serve ALL students in your schools. Ways to do this include attending conferences that focus on trans youth and schools; a great example would be attending a national conference hosted by Gender Spectrum or Gender Odyssey or a local conference hosted by your regional PFLAG or GLSEN chapter.
Along with education, it is also a time to recognize the power of having a Gay-Straight Alliance (GSA) student organization at your school. Research finds that having an active GSA in a school reduces both physical and emotional distress for LGBT students, even if they are not an active member of that GSA. If you are a teacher, check in with your GSA and see how you can support them. If you are an administrator, let the students know that you see and hear them. If you do not have a GSA, now is the time to start one.
I truly believe most people are good people, we are just misguided and misinformed at times, which then impacts the life and well-being of others. This can be changed by receiving education and breaking down the myths and misperceptions that you may have. Our kids deserve better, and the statistics that we see right now surrounding the physical and mental health of trans youth in non-supportive environments should be your motivation to create change as a person in charge of their education.  This is a great time to not only change policies around restrooms and locker rooms, but to also put into place supportive policies for name/pronouns, school activities, and official records.
The work has already been done, you just need to receive some education and follow their lead, start with the suggested resources below:
For Mental and Medical Healthcare Providers:
When working with transgender youth, you should not only be working to provide inclusive care and support within the walls of your exam room or office, but also advocating for the rights of transgender youth at their schools. The reason this is part of your responsibility is because a transgender youth's school environment has a direct impact on their physical and emotional health.
There are many resources out there to assist and guide you in ways that you can provide support for transgender youth, below are links to some of them:
For Family Members of Transgender Youth:
This world can be a challenging and scary place. The one place we should be able to find some comfort and safety is within the confines of our homes among our family members. Yet, for many transgender youth, they are fearful of what their family will say, or do, if they find out that the youth is transgender. For others that have taken the steps to come out to family members, they may be rejected by some, or all, of their family which will impact their home and academic life.
I remember how scary it was when I came out to my family. I was accepted by some family and disowned by others. Fortunately, I was 25 years old at the time so I was independent and had other people outside my immediate family to support me. But when you are an adolescent who is dependent on others, you do not have many options.
As a transgender person who has experienced rejection, I understand that family members are going through their own struggles. When someone comes out as transgender, there is a lot of information and questions to process. Parents may be scared. Parents may be sad. Parents may be confused. I get it. BUT, that doesn't mean you should be taking out your emotions on your child. If you have these feelings, imagine what your child is going through. Imagine how isolating it feels for them when they have all these questions about themselves, and they cannot find support from their own family or schools.
Instead of stuffing down or taking out the scared feelings that you have, seek your own support, seek your own therapy. You can find support systems online or through local support groups. You are not alone, your feelings are not invalid, BUT you need to be able to put them in a container that doesn't negatively impact or invalidate your own kid. Ask your child about their experiences at school and schedule an appointment with the administration to discuss ways to support your child and create a safe learning environment.
Being a parent means owning the responsibility that you have for your child, especially when they challenge you.
For Your Communities:
The harmful rhetoric that is swirling around us from politicians' stump speeches and agendas should not be tolerated in our communities. We are better than this. We are not here to get re-elected, we are not here to push narrow-minded visions, or to make good with the lobby members that are lining our pockets. Community means joining together and supporting one another, even if we don't understand identities that are different from ours. Research consistently shows that supportive and inclusive environments lead to healthier communities, so let's use this information to do more at the local level, regardless of what is happening nationally.
If you own a business, stand up and support all diverse identities. If you are a community leader, speak up and out in support for safe school environments for ALL students. If you are a local organization, help host an event to raise awareness.
We are all in this together.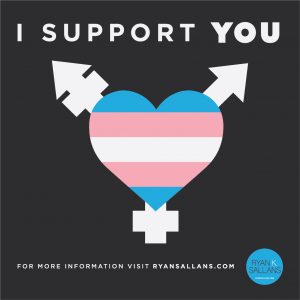 This article is part of Ryan's new "I Support You" Campaign. With the shift of our nation's political climate, now more than ever, we need to continue to raise awareness and visibility, while also supporting one another. Learn more about the campaign.